From Venspired: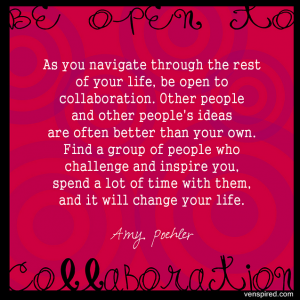 I used to think collaboration was just 'working with others.' Get together & make some plans. Divide up the workload. But it's really so much more. It's about people. It's about a willingness to know that you can learn something new from every person you meet. Simple moments that become something more because of others. It's the kind of collaboration that asks each other the hard questions, that pushes each of us to move forward, and the kind that continually inspires us to be come better versions of ourselves. It's the kind of collaboration that matters.
I look forward to working with all of you during this Wednesday's 1/2 Day on creating I CAN statements based on our powered standards. Let's all come prepared to collaborate.
Here's our week at a glance:
Monday, January 28th:
Reading Room Begins Again
*Thanks to the Reading Room Team for administering ACCESS to our ELL students! Thank you also to Rebecka Mirandola, our building ELL Coordinator, for organizing and facilitating a smooth ACCESS administration period this year!*
100th Day of School!

*check below for some ideas*
SEL Committee Meeting @ 3:45pm (Teacher's Lounge)
Tuesday, January 29th:
Parent/Teacher Collaboration Committee Meeting 5:30pm-6:30pm
Wednesday, January 30th:
SLBC to Subway
1/2 Day: School Improvement Day
Thursday, January 31st:
Friday, February 1st:
Happy Birthday Christa Henkel


Pre School Screening 
Here are some ideas I've pinned for the 100th Day: