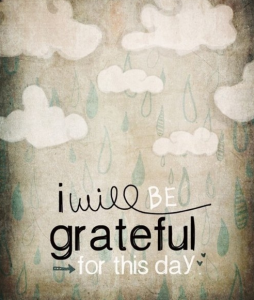 How often do we pause & think why we are grateful? I challenge each of you to take some time each day to reflect on the things, events, or people you appreciate. Better yet….if it's a person, let them know how thankful you are for their role in your life. THANK YOU are two simple words that have the power to transform our health, happiness, performance, and success. Grateful people are happier & more likely to maintain good friendships. Gratitude and appreciation are also essential for a healthy work environment. A simple thank you can make all the difference. Be sure to say thank you to those around you each and every day!
With parent-teacher week upon us, I wanted to share the following blog post:
'Twas the Night Before Conferences: A Parent's Perspective on Parent-Teacher Conferences
Parent-Teacher conferences offer teachers & parents the opportunity to see, celebrate and support each individual child. Just as we all appreciate praise for our efforts, parents appreciate praise for their efforts & their child's progress. As you offer information about the students in your room, always remember that you are speaking about someone's 'whole world' and remember to be mindful of how that information will be received by your audience. I'm confident you will exude professionalism and confidence this week as you inform parents about curriculum, assessment, grading/reporting, strengths & opportunities for growth. I know you will continue to develop a working relationship with your families and deepen that home-school partnership. Thanks for all that you do in preparation for this very busy week!

Here are some ideas from my "conferences" board on Pinterest. (if you're looking for ideas)
and here's our week at a glance
Monday, November 18th
American Education Week
Parent/Teacher Conference Week
*If your schedule changes, please be sure to submit an updated copy to the office. Also, Jane and I are able and willing to attend any conferences, if needed. 
Tuesday, November 19th
Parent Visit Day (9am-10am and 1pm-2pm)
Wednesday, November 20th
Kennedy Faculty & Staff Thanksgiving Feast (in lounge)
Board Meeting @ 7:00pm
Happy Birthday Rosa Worwa

Thursday, November 21st
Spirit Assembly (Integrity)
Happy Birthday Emily Kronlage

Friday, November 22nd
No Student Attendance: P/T Conferences
11/25-11/29 Thanksgiving Break
(11/25) Happy Birthday Jill Geritano

"Be thankful that you don't already have everything you desire. 
If you did, what would there be to look forward to?
Be thankful when you don't know something,
for it gives you the opportunity to learn.
Be thankful for the difficult times. 
During those times you grow.
Be thankful for your limitations,
because they give you opportunities for improvement.
Be thankful for each new challenge,
because it will build your strength and character.
Be thankful for your mistakes.
They will teach you valuable lessons.
Be thankful when you're tired and weary,
because it means you've made a difference.
It's easy to be thankful for the good things.
A life of rich fulfillment comes to those who
are also thankful for the setbacks.
Gratitude can turn a negative into a positive.
Find a way to be thankful for your troubles,
and they can become your blessings."
                                   -Author Unknonwn