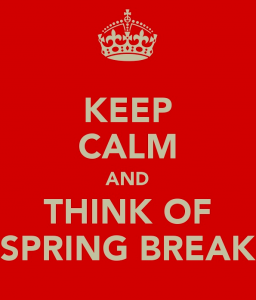 Spring Break always arrives at the perfect time of the year! As we head into the final 5 days of school prior to break, I'm hopeful that students & staff will take full advantage of their time off, resting and rejuvenating and spending quality time with family & friends. Regardless of how you plan on spending the break, I hope you soak up every single moment and come back re-energized in April for the home-stretch! Safe travels for those of you who are flying or taking a road trip. Donna & Jane look forward to welcoming you back on April 7th!
PS: Thanks to everyone for the well wishes and emails about Baby Alexa's arrival. I can't wait for Alexa to meet her Kennedy Kubbie family! 
Here's our week at a glance:
Monday, March 24th
Cycle 5 Assessments This Week
Celebrations Committee Meeting @ 2:30pm (Room 104)
Tuesday, March 25th
1st-3rd Grade to LMS to see Seussical @ 9:00am
Faculty Meeting @ 2:30pm
Mentor Meeting @ 3:45pm (LMS)
New Kindergarten Student Information Night @ 6:00pm
Happy Birthday Diane Serio

Wednesday, March 26th
SLC/SLBC Outing to Jewel
2nd Grade Young Authors @ 11:00am
Thursday, March 27th
Happy Birthday Lindsay Dudal

Friday, March 28th
Spirit Assembly (Integrity)
1st Grade (Room 110) Young Authors @ 12:00pm
1st Grade (Rooms 100, 102, 108) Young Authors @ 12:30pm
(03/29) Happy Birthday Eric Humbles
(03/31-04/04) Spring Break
School Resumes Monday, April 7th
Ideas Worth Checking Out….
Safely Using YouTube in the Classroom: Have you ever wanted to pull up a You Tube video on your Promethean Board, but were afraid of what links were going to appear next to it? Click on the link above to learn a tip on how to get rid of those side-bar "related videos" that can sometimes be inappropriate!
March Madness: Book Edition: This blogger uses the excitement of the March Madness college basketball tournament in her classroom by creating brackets and having a march madness with books! Check it out!
Some Neat Classroom Management Ideas: Looking for some new classroom management ideas to excite/motivate your students? Click on the link above to see some ideas from Pinterest, pinned by a fellow principal.
Google Ad-Ons: Recently, Google added their new Add-ons feature into Google Docs & Sheets. Ad-ons are new tools created by developer partners that literally "ad-on" capabilities to your Google documents & spreadsheets….and they're FREE! Check out the video below: