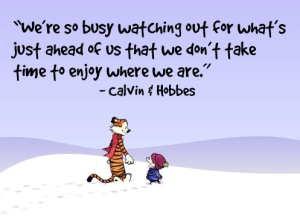 It's always important to keep in mind that the school year is a marathon, not a sprint. There are long stretches at the beginning and end, then those long days where winter's cold temperatures and lack of sunlight drain us. When viewed within the scope of an entire school year, 15 days isn't really that many. However, 15  is the exact number of days that we have with our little Kennedy Kubbies before Winter Break.
For some of our students who will say "it's almost break" and lack motivation, it is time to push them & keep them excited and eager to learn.
For our students who come from challenging circumstances at home and are feeling anxiety about not being at Kennedy for over two weeks (and acting out because of it), it is time to show them how much you care & make the most of these next 15 days.
For our students that just keep smiling & working hard each day, it is time to pull them aside and tell them how much you appreciate them (Positive Postcard? Let's keep our goal of 5 by Friday!)
In these 15 days, we have a lot of work to do & lots of wonderful learning experiences to provide our students.  We'll continue to persevere as the professionals that we are! No matter what your title is, what grade you work with, or what you do at Kennedy, please look at these next 15 days as times to deliver the highest quality service to our students, parents & community.
Be proud of what we've accomplished with our students so far this year, but please keep the focus on learning in your classrooms. In addition, I'd encourage you to:
Take a second and tell a colleague that you've noticed how hard they are working and that you appreciate them working so hard.
Make time to reflect on some of the positives that we've had this year that may have been overlooked as we have overcome the challenges of not having enough time.
Set a tone for your students that regardless of how much time is left before a long break that all of us will work hard and make the most of our school days.
Celebrate being a member of our Kennedy School family
Here's our week at a glance:
Monday, December 1st
**If you are interested in bringing a student up for the January TAPS meeting, please sign them up this week!
Please join me in welcoming Anya Talladen (new PreK para in Room 133) and Rosario Vazzano (Kindergarten Para in Room 128). 
Buddy Committee Meeting @ 2:45pm (Room 109)
New Teacher Meeting @ 2:45pm (Room 131)
Tuesday, December 2nd
Winter MAP Testing Begins
Celebrations Committee Meeting @ 2:50pm (Room 100)
Wednesday, December 3rd
2nd Grade Field Trip to E. Leyden
TAPS Common Plan
Thursday, December 4th
PreK Field Trip to Shed Aquarium
Happy Birthday Michelle Miro


SLT Meeting @ 3:00pm
Friday, December 5th
PreK Screening
Happy Birthday Becky Zora


Reading Room Plan Day
(12/06) Happy Birthday Rosario Vazzano


(12/07) Happy Birthday Dr. Boryszewski


(12/07) Happy Birthday Sue Motto

**Did you see the SLT Meeting Notes from last week? Check them out here!