Thank you to to all who came to support our Kennedy Kubbies last Thursday evening for the annual Talent Show, as they showcased their very special talents in front of a packed audience of family, friends and teachers! The gym was beautifully decorated thanks to a group of parent volunteers from ABC & committee members. The children had a wonderful time making memories they will never forget. Thank you to the Talent Show committee for their hard work planning and organizing the event. Thank you also to the Reading Room teachers for having the book fair open before & after the talent show. Finally….thanks to all who came to see the kids—their smiles and hugs showed just how much they loved having you there to support them! Pictures can be found on the right of this blog in the sidebar, or here.
Here's our week at a glance:
Monday, March 23rd
Last week of Pennies for Patients
*Cycle 5 Assessments This Week
Tuesday, March 24th
1st-3rd Grade to LMS for Musical "Into the Woods"
SMART Training @ 2:50pm (Room 110) in lieu of faculty meeting
Wednesday, March 25th
Lincoln Investments in Lounge for Lunch & Learn
2nd Grade Young Authors Celebration @ 11:00am
TAPS Common Plan
Happy Birthday Diane Serio

Thursday, March 26th
Kindergarten Field Trip to Field Museum
Multiage Young Authors Celebrations
(Rooms 101/109 from 8:40am-9:10am)
(Rooms 103/107 from 1:45pm-2:15pm)
*Donna will count total number of shamrocks hanging on classroom doors at the end of the day!
Friday, March 27th
Spirit Assembly
*Winning class with the most shamrocks from donations towards Pennies for Patients will receive Shamrock Shake Party*
PreK Field Trip to Brunswick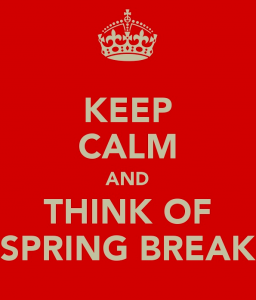 Spring Break always arrives at the perfect time of the year! As we head into the final five days of school prior to break, I'm hopeful that students & staff will take full advantage of their time away from Kennedy. For some, it will give them time to recover from feeling under the weather, and for others it is time to spend with family & friends. Regardless of how you plan on spending the break, I hope you soak up every single second and come back re-energized for the home stretch!
Have a wonderful and relaxing Spring Break! Safe travels for those of you who are flying or taking a road trip. We look forward to seeing everyone on April 7th for a Teacher Institute Day. We'll welcome the students back on April 8th.