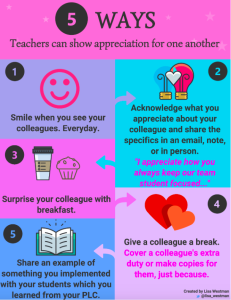 Here's our week at a glance:
Monday, May 8th
Melissa out of building @ Admin Academy
Happy Birthday Jen Mauck


3rd Grade ZOO Trip
Tuesday, May 9th
Kindergarten ZOO Trip
Pennoyer 1:1 Site Visit (8:30am and 12:45pm)
Marine Biologist visits with 2nd Grade Classrooms
Wednesday, May 10th
1st Grade Dress Rehearsal @ LMS (8:35am)
2nd Grade Goes to LMS for Buddies Activity (8:45am)
1/2 Day SIP <—click for agenda
Support Staff Luncheon @ 11:15am
*Did you sign up to cover a duty? Let's show our support staff how much we appreciate them!
Retirement Party @ Biaggio's (4:00pm)
Thursday, May 11th
Last Day of Reading Room
1st Grade Memorial Day Performances @ LMS (9am)
Mentor/Mentee Celebration @ 3:45pm
Friday, May 12th
FIELD DAY @ North Park
PreK Picnic @ Kennedy Park
Are you a power Seesaw User? Sign up to be an ambassador!

Teachers: Do we Appreciate One Another?   <—EdWeek article worth reading
Collaborative Lesson Plan Template – via Teacher Tech