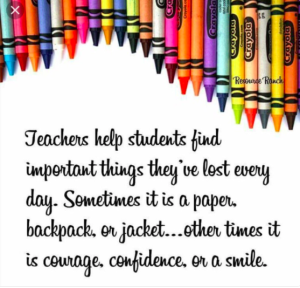 Here's our week at a glance:
Monday, October 2nd
Parent Visitation Day (9-10am and 1-2pm)
Project Connect K-3rd *Students will write an anti-bullying message on a strip of orange paper that will connect to form a school-wide chain! Our message is much stronger when we come together to make a difference!
Tuesday, October 3rd
3rd Grade Field Trip to Goebbert's
Wednesday, October 4th
1st Grade (Rooms 100, 101, 110) Field Trip to Safety Town
Thursday, October 5th
Vision/Hearing Screenings (Room 112)
SLT Math Meeting @ 2:40pm (Upstairs PD Space)
Happy Birthday Barbara Brzozowska

Friday, October 6th
Vision/Hearing Screenings (Room 112)
PreK Screenings
Blog Posts Worth Reading:
What's In Your Teacher Carry-On?
10 Things to Say Instead of 'Stop Crying'