My go-to blog, Venspired, comes through again this week with another inspiring message: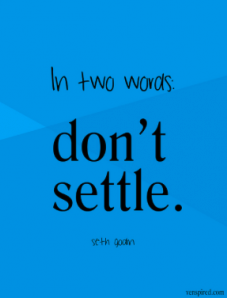 "That part of the school year. The one where your plate gets so full you don't know what to tackle first. The one where you're pulled in 86 different directions, buried in to-do lists, and you feel behind on everything. Your classroom. Your graduate classes. Your life. It's tempting, desirable, even easy to just settle. But when you settle, you'll miss something. You'll never know what amazing thing your class might create. You'll never know about that better way to assess, plan, integrate. You'll never read that article that changes your perspective. You'll never see that opportunity you missed. Yep, you could settle. Or, not. It's really up to you!"
Here's our week at a glance:
Monday, October 16th
Medical Exclusion Day – Please see email from Anna Wrobel re: students who are not up to date with paperwork
Dental Screenings
1st Grade/Reading Room Team Plan @ 2:35pm
Tuesday, October 17th
Dental Screenings
Happy Birthday Mary Beth D'Andrea


1st SIP Committee Meeting @ 2:45pm <—-did everyone sign up for a committee?
Wednesday, October 18th
Dental Screenings
PreK/K/1st Grade TAPS Meetings
Board Meeting @ 7:00pm
Thursday, October 19th
Happy Birthday Eva Popowska


PreK Parent Workshops
The Great Shakeout (Earthquake Drill) @ 10:19am *See email for more info!
SLT – ELA (Cancelled)
District Math K-5 Meeting @ 3:30pm (District Office)
Friday, October 20th
Fall Picture Re-Takes