While the graphic below shows the Phases of First Year Teachers, it's completely normal for all educators (and admin) to experience these "phases" throughout the course of a school year. I  know as a principal, I too, experience these sentiments. The difference is that I know to expect these different phases of the year, and that I will make it through each one. I don't know about you, but I don't even need to look at this image below to know that we're at the "survival" point of the school year.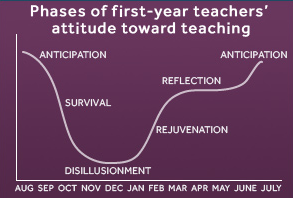 The key to the survival phase is to make sure that you are taking care of yourself, because you can't take care of others if you don't take care of yourself first. I appreciate the thoughtful time you are putting into preparing for report cards & Parent/Teacher Conferences coming up soon and that you will have great conversations with your students' parents to inform and involve them in their child's learning. I realize this means you have many late nights ahead of you in the weeks ahead, so please make sure to make time for yourselves to relax or do whatever it is that you do to rejuvenate!
Some other great tips to avoid teacher burnout include:
-Ask for help
-Don't sweat the small stuff
-Don't play the teacher at home
-Take time for yourself
-Remember why you teach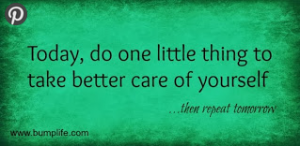 Monday, November 6th
Happy Birthday Kaitlin Teater


3rd Grade Veterans Day Rehearsal in Presentation Space (8:05am)
Kindergarten/1st Grade going to LMS for Musical @ 8:45am
Reading Room Plan with 2nd Grade (Presentation Space) @ 2:35pm
Tuesday, November 7th
No School for Students – Teacher Institute Day <–click for agenda
Happy Birthday Maria Rodriguez

Wednesday, November 8th
2nd/3rd Grades going to LMS for Musical @ 8:45am
Thursday, November 9th
3rd Grade Veterans Day Rehearsal in Presentation Space (8:05am)
Friday, November 10th
Happy Birthday Gloria Reyes


3rd Grade Veterans Day Performance @ LMS (10:30am)
*5 Positive Connections by Friday!
*Please try to have your report cards printed by today! If there are any issues, we need to know about them so we can help resolve them! 
(11/11) Happy Birthday Becky Shoufer & Julie Fister


(11/12) Happy Birthday Sarah Mixa:)
*Need another Winter Spiritwear Order Form? CLICK HERE – Orders due November 17th!
*Please make sure to keep the master Fall 2017 Conference Google Doc updated as changes are made! Also, please notify staff members who have added a "comment" or "note" in the cell so they are aware that a conference time was changed!