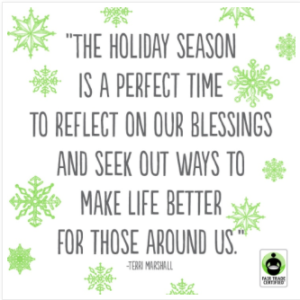 December can be a crazy time in the classroom. The kids are antsy, your personal to-do list is a mile long (professional and person), and you're still trying to cover curriculum while you can. But it's also a time for gratitude, tradition, and reflection, which is why We As Teachers created the Random Acts of Kindness Calendar (below) for the classroom! Download it, print it, and share it with your students!
Here's our week at a glance:
Monday, December 11th
Winter MAP Testing
Winter Aimsweb Benchmarking
Reading Room Planning with 3rd Grade (2:35pm)
Tuesday, December 12th
Kennedy Singers to LMS for Winter Choral Concert Rehearsal (8:30am-10:00am)
Faculty Meeting @ 2:50pm
Winter Chorus Concert @ 6:30pm (LMS)
Wednesday, December 13th
PreK/PATS Tree Decorating Party (2-3pm)
TAPS (2nd & 3rd Grade)
Thursday, December 14th
December Buddy Event
Holiday Fund Gift Wrapping 2:30pm-3:05pm (Media Center)
Friday, December 15th
Santa Visits Kennedy School!
5 By Friday!
D81 Employee Holiday Party!
(12/16) Happy Birthday Sue O'Connell & Ola Heitz
(12/17) Happy Birthday Jessie Melendez (upstairs custodian)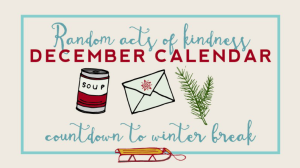 Click here to download a full size version of the calendar below: